Corned Beef and Cabbage is a slow-cooked stew that you can make all day. It's full of hearty vegetables. This is a classic recipe with nostalgic flavors, and it's so easy to whip up.
A good stew is my favorite. They are filling and easy to make in the slow cooker. I've also never heard ANY of my kids complain about stew for dinner, and that's saying something! If you are on the hunt for more stew recipes, you've got to try this Slow Cooker Beef Stew, this amazing Beef Bourguignon, and this tasty One Pot Chicken Stew.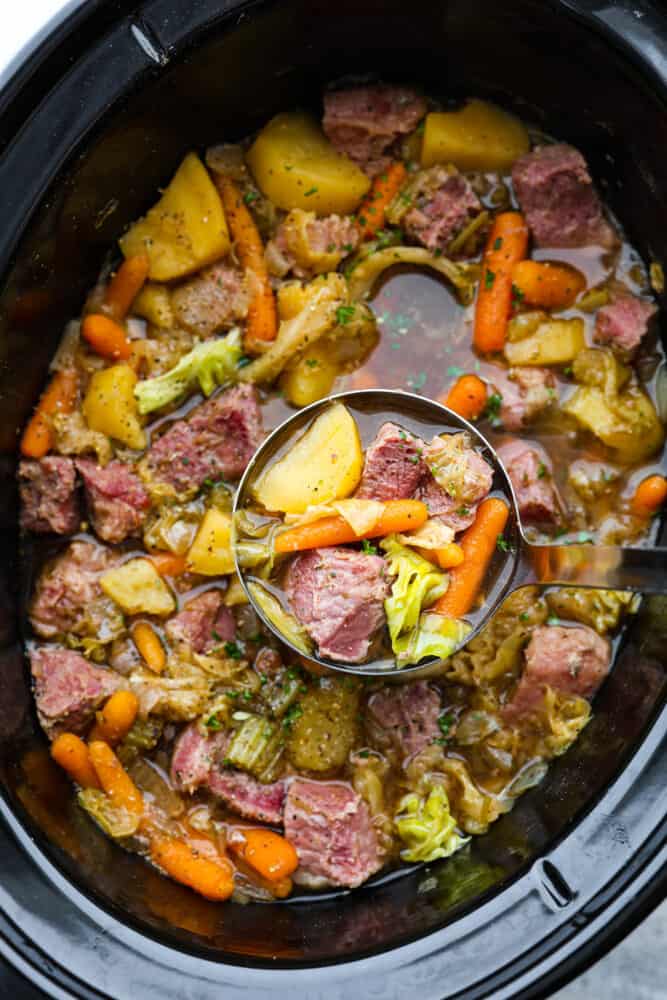 Corned Beef Stew
Today I share a family favorite recipe that we have been making for many years. This recipe is a family favourite, no matter if you're Irish. It is perfect for your St. Patrick's Day celebration and is hearty and full of flavor. It can be served with homemade cornbread, this simple garlic bread or a refreshing tomato basil salat.
Pickling spice is what makes slow cooker corned meat and cabbage so delicious. Pickling spice has mustard seeds, allspice berries, whole coriander seeds, and red pepper flakes which add a flavorful and unique taste to this stew. I also added garlic powder to the stew.